CAYLEE HAMMACK AND HUNTER HAYES VISIT ACM LIFTING LIVES® MUSIC CAMP, AND JESSIE JAMES DECKER VISITS CAMPERS AT THE FAMOUS BLUEBIRD CAFE
PHOTO RELEASE
CAYLEE HAMMACK AND HUNTER HAYES VISIT ACM LIFTING LIVES® MUSIC CAMP,
AND JESSIE JAMES DECKER VISITS CAMPERS AT THE FAMOUS BLUEBIRD CAFE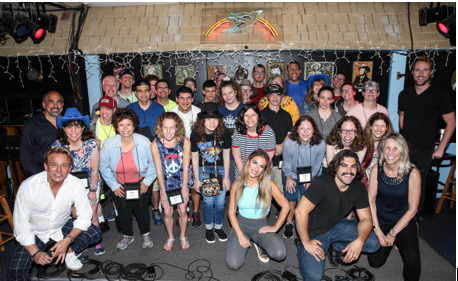 Encino, CA (June 17, 2019) – The 10th Annual ACM Lifting Lives® Music Camp is in session this week in Nashville, Tenn. with campers from around the country participating in a week of activities and excursions around Music City. The residential camp has the dual purpose of studying Williams syndrome while providing music enrichment through performance and education.
On Friday, Caylee Hammack dropped by the Seacrest Studios where she performed her single, "Family Tree" for the campers and participated in a Q&A on-air for the Monroe Carell Jr. Children's Hospital at Vanderbilt.
Later that evening, Hunter Hayes dropped by the famous Wildhorse Saloon to spend time with the campers, participated in a meet and greet and shared stories from the first day of camp.
On Saturday, campers were treated to a special performance at Nashville's famous Bluebird Cafe with Jessie James Decker. Decker's performance included an acoustic rendition of "Roots and Wings," "Lights Down Low," and "Old Town Road" (Jessie James Decker version) and participated in Q&A with the campers.
The camp is a partnership between ACM Lifting Lives and Vanderbilt Kennedy Center for Excellence in Developmental Disabilities. For more information on ACM Lifting Lives, please visit www.ACMLiftingLives.org.
Photo #1 L-R: Lyndsay Cruz, ACM Lifting Lives Executive Director; RAC Clark, Interim ACM Executive Director; Caylee Hammack; Stuart Dill, SVP Office of Engagement/Vanderbilt University Medical
Photo #2 L-R: Ben Ratliff, Hunter Hayes Tour Manager; Lyndsay Cruz, ACM Lifting Lives Executive Director; Hunter Hayes; RAC Clark, Interim ACM Executive Director with ACM Lifting Lives Music Campers
Photo #3 L-R: Paul Barnabee, FBMM Entertainment Business Management & ACM Lifting Lives Vice Chairman; Tommy Moore, Academy of Country Music and ACM Lifting Lives Secretary; Fletcher Foster, F2 Entertainment and Academy of Country Music Board Member; Jessie James Decker; Jonathan Wyndham; Erika Wollam-Nichols, The Bluebird Cafe GM with ACM Lifting Lives Music Campers
Photo Credit: Getty Images/Terry Wyatt/Courtesy of ACM Lifting Lives
*High res photos available upon request
# # #