04/07/2015
THE ACM REVEALS NEW MERCHANDISE CELEBRATING THE 50TH ANNIVERSARY OF THE ACM AWARDS
THE ACADEMY OF COUNTRY MUSIC REVEALS
NEW MERCHANDISE CELEBRATING THE
50TH ANNIVERSARY OF THE ACM AWARDS
Fans Can Pre-Order NOW In Time For All the Festivities in North Texas!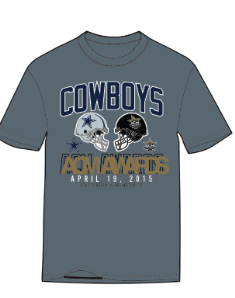 ENCINO, CA (April 7, 2015) – The 50th Academy of Country Music Awards are right around the corner and fans can get ready for the golden anniversary celebration by purchasing their ACM merchandise in advance of the big night! The new line, designed and created by Richards & Southern—the very same team who handle merchandise for major country music artists – features t-shirts, hats, jackets, tote bags, drink koozies and more! Fans can also sport one-of-kind co-branded designs that feature the ACM Awards and the Dallas Cowboys as well as the ACM Awards and the Texas Rangers. Specialty jewelry has been added to the line for the 50th celebration.
"Richards & Southern and the Academy of Country Music have worked together going on 10 years now," said Terry Calonge, CEO of Richards & Southern. "We knew that this was going to be an iconic historic event and that fans were going to want to keep a piece of it. Using the incredible ACM 50th logo and the combined talents and imaginations at Richards & Southern and the Academy, we are proud to say that we have created merchandise that is a piece of the ACM 50th Anniversary experience that will be a part of history forever."
Fans can visit the Academy of Country Music Store now to check out all of the new merchandise at http://academyofcountrymusic.richardsandsouthern.com/.
Click here to see a behind-the scenes look at the creation of this year's ACM merch line with Richards & Southern in the "Designing the ACMs" webisode.
The 50th Annual Academy of Country Music Awards, co-hosted by Luke Bryan and Blake Shelton, will broadcast LIVE from AT&T Stadium in Arlington, Texas on Sunday, April 19, 2015 at 8:00PM-11:30PM ET/delayed PT on the CBS Television Network.